As the error code suggests, the connect string to the database is wrong. Please double check. If it still doesn't work then post your config file without the password.
Can you provide the files for a simple test case? Please use a query on user_objects, e.g.
select count(*) cnt, object_type 
  from user_objects
 group by object_type
Thank you.
I am still on vacation so I might have a look next week.
Hi,
I don't quite understand. The error message says the account is locked. You need do unlock it.
Connect as a dba user (SYS, SYSTEM, etc.) and issue:
alter user <username> account unlock;
Then restart the Tomcat so that the connection pool is rebui...
yes, that would certainly work. It is recorded in the logfile.
I guess I would have run the following statement from within the database (using sqlcl, SQL Developer or something similar):
select httpuritype('http://localhost:8080/jri').getclob() from...
You can see the ip address that is being tested against here: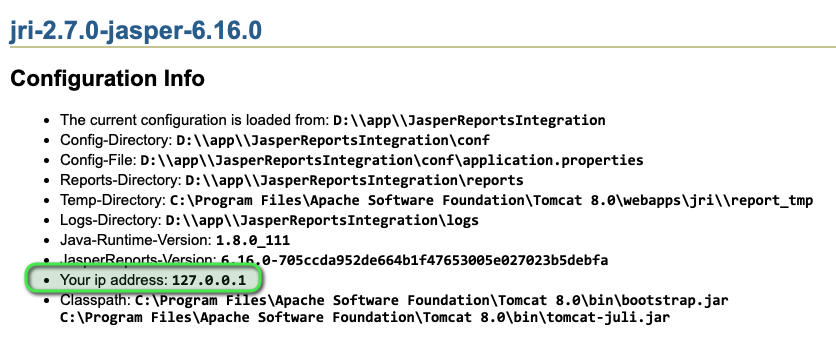 I see that those two requests are indeed different, one seems to be about the Oracle cloud and this one is more general in nature.
I will have to look into this and do some testing myself. Perhaps you could configure a local domain name on the database se...
Thank you for explanation Dietmar and thank you for your awesome JRI :)
Hi @miki720 ,
direct printing will send the document to a printer that is CONNECTED TO THE APPLICATION SERVER, not the client browser.
In order to see the names that are known to the application server, go to the Tomcat directly: http://vm1:8...
Hi @mohamedhattab,
I have checked it and it works with my setup on the latest versions:
JasperSoftStudio 6.16.0
JRI version jri-2.7.0-jasper-6.16.0

it seems like the .jasper file created with JasperSoftStudio 6.12.0 is incompatible with t...
Thank you for the detailed explanation! I will have a look at it.
Please provide more details:
Screenshot of the problem
Simple test case - based on a simple query without database objects, e.g.

select '... this is long text ...' my_text from dual;

Upload the .jrxml file for this testcase
Version of the...
Hi David,
I have added a section to the GitHub homepage under Related Projects for JRI Publisher.
Best
~Dietmar.
Hi @DavidGhedini,
sounds great, thank you. Based on my own testing and feedback from and others I feel confident that the release is very stable.
That was an important milestone to reach, the source code is available on github, using all the github s...
Hi @DavidGhedini ,
sounds good.
Please make sure to test with the configuration copyXML="false">, because in release 2.6.2 the (empty) file jri.xml will be created. Make sure, it doesn't cause any issues, although I believe it won't.
Best,
~Dietmar.
Hi David, please wait a little. I have been reported a few minor issues and a big one. Barcodes don't render at the moment. I will be fixing those issues and should be done with the release by the end of the week.
It would be good to understand what kin...
Hi @ajitabhpandey,
there was an issue with the Oracle Driver. I have moved now to the universal connection pool from Oracle (ucp.jar).
Currently, this is still hardcoded in the initialization:
poolDataSource.setInitialPoolSize(5);
poolDataSource...
Please give it a try and test with (pre-release) version 2.6.0.
Hi @ajitabhpandey ,
I think you have been using version 2.5.x, there was a problem with the Oracle JDBC drivers. Thus, the connections didn't get cleaned up properly. For release 2.6 I have changed the jdbc connection to using the Oracle Universal Con...