Hi.
I read that you are learning to code.
I found this very old article by Ivo:
He explains how some of the code works ...
Well, that was a good 20 minutes to upload.
Phew and Yay. Done. :)
It makes me wonder if people are copying the whole CSM website to their computers for safekeeping.Much like how it was done on Open Shell GitHub. I'm guilty of that too in 2018,I used HTT...
I don't see a way to send a private message. Oh well.
To tell you the truth, I've had this text file on my desktop for many months waiting for you to come out with your final skin versions.I guess there never will be a fina...
I've probably mentioned this somewhere before about the low alpha values when using glass not looking the same on CSM/OSM.
I'll just throw it out there one more time.
There is one other thing which Ivo has happen when there is no glass third party availa...
Hi bonzibudd.
Yep, been a while. Got my first covid shot a month ago. :)
About converting premultiplied back to straight.As I didn't know about it at the start, I would just brighten up the premultiplied image and increase the...
Hi. Not many people know about this page.
It will be better if you go to this:
Classic Shell Reborn. Contribute to Open-Shell/Open-Shell-Menu development by creating an account on GitHub.
github.com
...
We all find out sooner or later that the scrollbar is a separate entity.
With transparency, it is transparent to the desktop behind the menu.If you ever used the original edge browser, you would notice the sametransparent effect on the fav...
Win 10 probably is more linear.Still, as I found out with CSM/OSM, if one makes the skin color mask set up for the Auto accent color,it can be made to match the taskbar color,but then one has to make another more intense color mask to match up to the t...
Woops, the 7 screenshot is still on the Win7 drive.
The one above is another capture on Win10. :) Fixed
Here is a screenshot of the Windows 7 system.I decided to put an option in the skin to have the main menu shadow turned off by default,while still l...
Other stuff.
Grandmaster, I have a question.
Have you ever seen the native Windows 7 start menu have a shadow on the right and even onto the taskbar?
Mine doesn't. I am wondering if I should put an option in the WIN7LIKE skins to disable the shadow. W...
If you eventually run out of tint colors, there are pattern masks that you can use.Sometimes I used text set to a color, but most of the time I used a 16x16 bitmap as the reference color that tiles itself.I used both methods (opaque 0 to 255) or (2...
I went back and changed the skin text and it has a visible split button with a magnifier bitmap.
Here is a multi-image overlayed screenshot on Windows 10: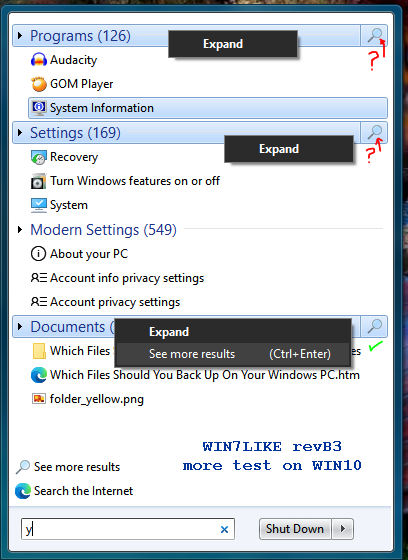 Notice the split mag image shows even when it can't access the see more results folder. So ...
Hmm, the more I play with the "more" settings,
the more I don't think it works very well.
If I use real Windows7 os search view,
all the blue text has big font 15.
If I hover over the blue Documents text, the underline shows, and clicking...
By using an invisible split selector and this text:
;for jump viewList_split_selection=$SystemAccentDark2|$StartSelectionBackgroundList_split_selection_mask=29List_split_selection_tint1=$StartPrimaryTextList_split_selection_slices_X=2,2,2,2,2,2List_sp...
Excellent work.
I hate to say this, but I may have tried some of these things before, but forgot about them!
Here is with a freaky arrow that sort of works:

I changed to this text with an invisible image:
; LIST SECTIONList_text_p...
If I look at the Smoked Glass .skin,
Ivo put notes about default paddings.
You can see where he overrode:
; Main_text_padding - extra padding on the left/top/right/bottom of the text in the main menu; The default is 1,2,8,2Main_text_padding=1,...
When I saw that "s_SkinError[1024];" I thought that must be the error skin that shows up when
skin bitmaps don't match the size, number or missing a bitmap.
But that error skin looks like the "No Skin" skin.
So you may be right that the numbers ma...
Go for it. You have to try at least once.From my experience, though it just did the same bleeding thing.I'm sure way back someone tried using either 24-bit or 32-bit pattern image as well.It never went away. It must always be mixing with the system col...
What about the way the menu color bleed goes away when the menu glass opacity is set to 0.
I wonder if there is a way that the coders could put an internal skin option that overrides the default 50% menu glass opacity to near 0%?So this would stop...
In most cases, I would just kill off the earlier skin by replacing it with the new version.This one is different. It's around 4 years old, and I'm sure the download link has been sharedby people and a few sites. I think the download link woul...
I decided to rename the skin with revB1 and now B2 because oh what the hay, I replaced the new selectors with the original on programs,small main, and the white submenu locations. The large main MS selector image needs conversion. I always have trouble w...
Hello
Oh shoot, I logged off here last night, but have been logged on on Github all this time. Oh well.
I misunderstood the search magnifier bitmap. Yes, it is more right.Not sure if it's worth changing as there is no way to make the search b...
HI
That's why it's called WIN7LIKE.
If someone wants a more original look with the exact Win7 code, then switch to Startisback.
The main reason I upgraded to rev B was to make the 2 column selector padding bigger,as well as adding a ...
I didn't notice any difference between classic and 7 styles.120 dpi just uses 16x16 pixels row in most cases, not the 20x20 row.And what's worse is depending on the type and size of the main font,the bottom row may or may not trigger for 144dpi. Ve...
I think it's a bug.
What we did way back was instead of calling it OPTION USER_IMAGE=#7014,0
we just used a different name like OPTION AVATAR=#7014,0
It seemed to work.